The WAND
We know that most children get very nervous at the mere sight of a needle and syringe. That's why we perform anesthetic injections with a revolutionary system called The WAND.
The source of discomfort for most injections isn't the needle, it is the flow of anesthetic into your tissue. The WAND has a computer controlled microprocessor inside that automatically ensures a steady flow rate of anesthetic regardless of tissue density. This results in a more comfortable injection.
The WAND is an excellent example of our efforts to bring you the latest dental technology, and to help all of our patients have a pleasant, positive visit to our office.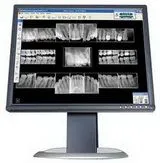 Digital Dental Radiographs (X-Rays)
With the advances in computer aided dentistry, we now provide our patients the latest diagnostic imaging, also known as Digital Radiography (x-rays). Instead of biting down on dental film, a digital x-ray uses a wireless sensor. Where it used to take 4-6 minutes to process a regular dental x-ray, it now takes less than 30 seconds to produce the image. Since digital x-rays are processed by the computer, they are environmentally friendly – no chemicals or waste.
The Dentist and patient can watch the images come up on the computer screen seconds after the sensor is inserted into their mouth. This allows for better education and understanding for our patients, resulting in greater confidence in treatment. Digital x-rays have the ability to be computer enhanced and magnified.
A concern to many of our patients is the amount of radiation they are exposed to when getting their x-rays. By using digital radiography, the patient exposure is reduced by 90%. Thus, providing better protection to our patients and staff.
Ask us about all of the services we offer to make your child's dental experience more comfortable.